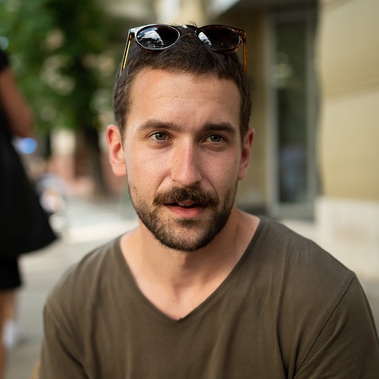 My name is Dénes Erdős, I am a photojournalist based in Budapest, Hungary.
After graduating from the Illyés Art Academy in 2014, I started working as a freelancer commissioned by several media, and from 2019 I worked for Népszava, one of the country's national daily political newspapers. In 2023 I joined The Associated Press as a freelance photographer. I am the co-founder and curator of BPSPC, a street photography collective in Budapest.


Open to new ideas, always available for assignments!

Contact me:
+3630/9433938
erdosdenesphoto@gmail.com


2023, Joined The Associated Press as a freelance photojournalist
2023, Attend VII Academy's Southeastern and Eastern Europe Lvl 2 Course
2022, Photographed and edited the book Nagykörút, written by Judit N. Kósa
2022, 2nd prize in News Singles category at the 40th Hungarian Press Photo Contest
2022, Szalay Zoltán Prize for the best photojournalist under 30 at the 40th Hungarian Press Photo Contest
2021, 2nd prize in Reportage category at the 39th Hungarian Press Photo Contest
2021, Participated in VII Academy's Photojournalism and Documentary Photography Seminar

2021, Finalist for the Hemző Károly Award
2020, Debut exhibition and screening with BPSPC in Budapest
2020, Published in Fotobook Monthly's #06 issue